Hola a todos, en esta ocasión quiero compartir este scrap kit titulado "Día de Muertos" (Day of the Dead). En mi país, tenemos una antigua tradición que celebramos el día 1 y 2 de Noviembre, se le conoce como el día de los Fieles Difuntos o Día de los Muertos. Durante estos dos días, preparamos un altar donde colocamos las fotos de aquellas personas que hemos amado y extrañamos y que ya no se encuentran entre nosotros. Colocamos en esta mesa, junto a sus fotografías, aquellos alimentos o cosas que les gustaban en vida. La flor tradicional es el Cempaxóchitl, la cual esta presente en el altar, así como calaveras de azúcar, caña, el pan de muerto y el Tequila o alguna bebida tradicional. Siempre podemos colocar las flores de nuestro gusto o los alimentos que sabemos, eran sus favoritos, veladoras, vasos con agua, etc. Las personas asisten al panteón y pasan el día allí, recordando y compartiendo junto a sus amados difuntos.

Esta tradición es muy amplia y está llena de simbolismo y significado, lo cual me llevaría mucho espacio comentar. Creo que las tradiciones de todos los países deben conservarse y nunca olvidarse.

Por ser una celebración especial de mi país: México y por ser una celebración de Centroamérica y algunos lugares de Sudamérica, he querido honrar esta tradición con un kit especial.Espero que lo disfruten.

Abrazos!

------

Hello everyone, this time I want to share with all of you this scrap kit that I called "Day of the Dead" (Día de Muertos). In my country we have an ancient tradition that we celebrate in November 1st and November 2th, known as the Day of the Dead or Dia de los Muertos. During these two days we prepare an shrine with a table where we put the pictures of those who we loved and passed away. We place at this table, along with their photographs, those meals or things that they liked in life. The traditional flower is the Cempaxóchitl, which would be on the altar, as well as sugar skulls, sugar bread and some traditional drinks as the Tequila. We can always put any kind of flowers if we want. People attending to the cemetery and spend the day there, remember and share with their beloved departed.

This tradition is vast and full of symbolism and meaning, which would take me a lot of time and space to comment. =) I think that the traditions of all countries will never be forgotten.

As a special celebration in my country Mexico and as a special celebration in Central America and parts of South America, I wanted to honor that tradition with a special kit. Enjoy it.

Hugs!
Dilcia.
ALTAR DE MUERTOS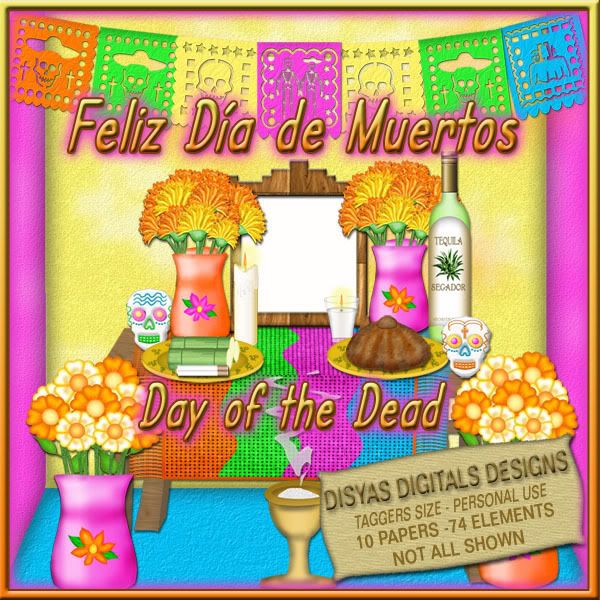 ELEMENTS - ELEMENTOS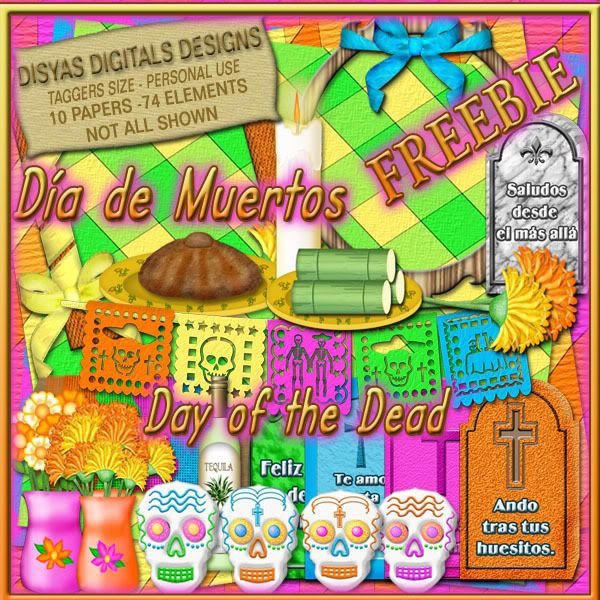 PAPERS - PAPELES
DOWNLOAD
Other link to download